iSuppli takes a look at how Apple and Samsung dominate microprocessor buying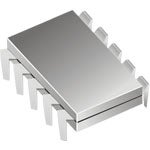 With the success of the iPad and iPhone, it's no surprise that Apple buys massive quantities of various microprocessors. But did you realize that Apple buys a whole lot more RAM, processors and other chips than any other company? The statistic is quite impressive.
In a recent industry conference, iSuppli researcher Dale Ford said Apple will spend $27 billion on chips in 2012, an impressive spend compared to $9 billion for the same category in 2009. Interestingly, Samsung is one of the major suppliers of such chips, but it's also a buyer, and is expected to purchase about $16.5 billion in chips this year, an increase from the $10 billion they spent in 2009.
Ford said that Samsung and Apple are so big independently, that they have the capability to disrupt supply availability for each other. He also said that events like the Japanese tsunami and Thailand flooding in 2011 do have an impact on chip production and availability, but that these events didn't have a significant impact at the times because chip productions had been plentiful prior to their occurrence.
Ford estimates that Apple and Samsung will continue to see increased demand. He estimates Apple's chip demand will reach $29 billion in 2013, and Samsung will spend $18 billion. These estimates are in line with the continued fast-growing tablet and smartphone adoption rates that seem to remain strong.
source:
ipodnn