iPhones won't get more expensive despite new tariffs, analyst predicts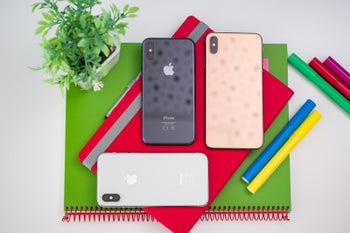 The trade war between China and the US is going on in full swing and President Trump is handing out tariffs like candy on Halloween. So far, some of America's favorite products — Apple's iPhones — have managed to avoid being hit by the barrage of new import taxes but that might change in just a few weeks.
Recently, a new
10% tariff was announced
that would be imposed on about $300 billion worth of goods as soon as September 1. It's not yet clear if Apple's iPhones and other tech products such as the iPad and
Apple Watch
will be within the scope of the new tax, but stock traders were concerned enough that the price of Apple's shares dropped just after the government's announcement.
Naturally, the worries are that Apple's already expensive devices will hit new price heights once the tariffs are in place, leaving an even bigger dent in customers' pockets. That probably won't happen, however, if we believe the opinion of the popular Apple analyst Ming-Chi Kuo, who's reports are often a trusted source of information about the company's intentions.
Apple will foot the bill... for now
His latest note to investors,
picked up by 9to5mac
, explains how Apple plans to deal with the new tax. According to Kuo, the tech giant will "absorb most of the additional costs" that could have otherwise be passed onto consumers. The key word here is "most" as that could be anywhere from 51% to 99% of the added costs. Knowing the high margins Apple is working with, the latter is not out of the question, after all, changing the price from $999 to $1029 for example, wouldn't make much sense.
But Apple isn't planning to just accept paying those taxes forever. This is where counter-tariff measure number 2 comes into play: moving production away from China. That's nothing new, plants in India are already gearing up to
manufacture the 2019 models
, but with the new taxes looming over Apple, the company is going to speed up the process dramatically. That's easier said than done, however. Depending on the amount of automation involved in the production of each product and the size of its US market share, the move might take up to two years. Here are Kuo's predictions:
1. iPhone.
Expanding non-Chinese production capacity is challenging due to the low degree of production automation. We expect that non-Chinese production locations to meet U.S. market demand in 2020.
2. iPad.
It's not difficult to expand non-Chinese production capacity to meet U.S. demand because of the higher degree of production automation and the smaller U.S. market share.
3. Mac.
Though its degree of production automation is higher than the iPhone's, the Mac's non-Chinese production locations can't meet demand from the U.S. market until 2021 because of higher market share of U.S. market.
4. Apple Watch.
We expect there will be non-Chinese production locations, starting in 2020.
5. AirPods.
We estimate that the change of AirPods' internal design from SMT to SiP will enhance the level of production automation.


It's important to note that, currently, Apple only needs the production that's outside of China to be enough for the US market, since that's where the tariffs are applied. Still, that's a mammoth task considering the popularity of Apple devices in the States. The biggest winner in that whole scenario appears to be Vietnam since a large part of the production moving away from China will end up there, creating thousands of jobs in the process.

Even if these tariffs end up removed in a couple of years, the move of production will likely be permanent and will have a lasting impact on Apple's supply chain. If that will have an effect on the quality of Apple's products is still too early to tell but we suspect products from the new lines won't be shipped to the US until they meet Apple's strict standards. It's likely that users won't notice any difference besides the change in the name of the country after "Assembled in".