iPhone case provides free WiMAX 4G, priced at $99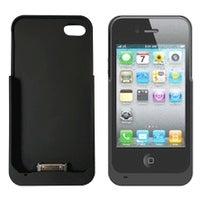 The
iPhone 4S
is
not exactly a 4G phone
, even though
AT&T makes you think it is
. However, here is an accessory that delivers 4G love in WiMAX flavor to the iPhone 4S and
iPhone 4
. It is called the
Freedom Sleeve 4G
and is basically consisted of a 4G WiMAX radio and a Wi-Fi module enclosed within a protective case along with a battery.
Once the iPhone is outfitted with the accessory, it automatically connects to the Sleeve's Wi-Fi network. And you know what is really cool about the Freedom Sleeve 4G? That
the WiMAX wireless broadband that you get is free of charge
! Up to 1GB can be used for free and shared with up to 8 other Wi-Fi devices.
As an added bonus, you will be able to use FaceTime while on the go. That is because the smartphone is technically connected to a Wi-Fi network, which is a requirement for FaceTime to work. Last but not least, the accessory can extend your iPhone's battery life by up to 6 hours, depending how the smartphone is being used.
You cannot get one of these yet, but a limited number of Freedom Sleeve 4G cases are available for pre-order. Priced at $99, they are available at the company's web site, so just follow the source link if you are interested. The video embedded below shows off the accessory in action.