iPhone 6 pre-orders to start 12AM P.T., here are your trade-in options
8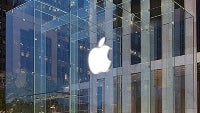 It's September 12, and it won't be long before the
4.7-inch iPhone 6
and
5.5-inch iPhone 6 Plus
are up for pre-order. The online Apple Store is being updated at the time of writing, which means Apple is stocking it up big time. Pre-orders will open at 12:01 AM Pacific time, and shipments will start September 19. Next Friday, customers can pick-up their pre-ordered iPhones at a designated retail Apple store by specifying a location and presenting a web receipt or registered e-mail address.
The new iPhones can be ordered from the four major US carriers as well. Each carrier is having a promotion to capitalize on the euphoria:
-
Verizon
lets iPhone owners trade in their used iPhones for a discount of $200 (for an iPhone 4, 4s, 5, or 5c) to $300 (for an iPhone 5s) from the price of a new iPhone 6, depending on the model and condition. According to its web page, an used 16GB iPhone 4s can be exchanged for a $100 gift card, and a 16GB iPhone 5s in good condition is worth $300.
-
AT&T
is offering up to $300 off the iPhone 6 against an used older iPhone. It also has two additional offers. Customers can receive $100 credit on purchasing any iPhone and adding a new phone line to an AT&T Next account, and $200 discount on any iPad against the purchase of an iPhone for no upfront payment with AT&T Next.
-
Sprint
offers an "iPhone for Life Plan". Users can "lease" an iPhone 6 for $20, or an iPhone 6 Plus for a $25, added to a $50 a month unlimited data plan. The lease lasts for 24 months, after which customers "in good standing" can upgrade, purchase the leased phone, or continue leasing a phone on a monthly basis. Additionally, subscribers can get an instant $199 credit for a 16GB iPhone 6 when they trade-in any used iPhone in good working condition at Sprint stores.
-
T-Mobile
customers can get the $16GB iPhone 6 for $0 down and 24 monthly payments of $27, or the iPhone 6 Plus for $0 down and 24 monthly payments of $31. As for trade-in discounts, the combative carrier reassures interested customers that if they find a better trade-in offer from AT&T, Verizon, or Sprint, it will "beat it and pay out the difference", and will give a $50 credit for a limited time.
Once again, official prices on a two year contract are as follows - the iPhone 6 costs $199 for 16GB, $299 for $64GB, and $399 for 128GB, while the iPhone 6 Plus costs $299 for 16GB, $399 for 64GB, and $499 for 128GB. Unlocked prices are $649 for iPhone 6 16GB, $749 for iPhone 6 64GB, and $849 for iPhone 6 128GB. The iPhone 6 Plus unlocked will cost $749 for 16GB, $849 for 64GB, and $949 for 128GB.