iPhone 6 and iPhone Plus concept dreams about future Apple devices with a clickable touchpad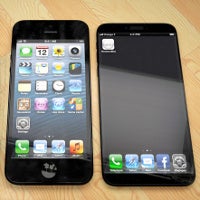 Apple might still be the gold industry standard for design and product excellence, but it must be feeling the heat as its shares are sinking lower and lower, and even loyal fanalysts start wishing for some Android features to arrive on iOS. What's more - with a ton of new Android devices, the Apple iPhone might have a tough challenge to overcome.
That's where ideas like this one might help. A really impressive concept imagined by French website Nowhere Else and brought to Photoshop reality courtesy of Dutch designer Martin Hajek, this iPhone concept shows one possible way for Apple to impress with the new iPhone.
The idea revolves around a
touchpad-like, wide button that is also sensitive to touch
instead of the round Apple home key. That wide and narrow button takes the whole space below the screen and looks very sleek.
While it is a huge departure from what we are used to, it could be worth it freeing up space for an even larger screen and a more balanced overall look of the device.
Of course, the concept also adds a splash of imagination with a fully
edge
-to-edge display with no bezel, something that is rather impossible. Still, these are some images Apple designers should definitely look at. Hajek has made numerous concept images for Apple, and all of them have impressed with their creative ideas and meticulous finish, we just wonder how Apple has not yet recruited him.
source:
Nowhere Else
iPhone 6 and iPhone Plus concept images