iPhone 5 polarizing filter attachment promises better photos, reduces glare
5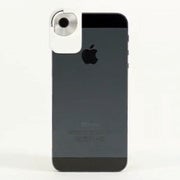 Yes, it may also be a lens attachment for the iPhone 5, just like the aforementioned accessories, but what sets it apart is that it comes with a polarizing filter. It is a color neutral filter, to be more specific, sandwiched between two pieces of high quality scratch-resistant glass. That's the kind of tech professionals use to block out unwanted glare, such as the light reflections you get off a glass window.
With the Trygger in place, your iPhone photos will have better contrast and more natural colors without the need to use software to manipulate them. It should take care of that nasty purple tint that you get under certain conditions, which is also more than welcome.
But before you get your hands on one of these and start snapping, you'll have to visit the project's Kickstarter page and pledge to it. A Trygger can be pre-ordered for $30 and should ship by February of 2013, as long as enough funding is raised. About $1,700 have been collected out of the $10,000 goal, with 37 more days to go until the deadline is reached. Any takers?