iPhone 4S line outside Hong Kong Apple Store comes back strong after being broken up by police
23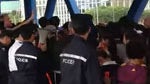 While the iPhone 4S has been available in many countries for a few weeks now, Hong Kong residents are eagerly awaiting its November 11th release date. Last Friday, preorders sold out in 10 minutes. Now, Apple fans are lining up outside the store to be one of the first owners of the iPhone 4S in Hong Kong.
Whenever there is a major demand for an item, there are usually scalpers trying to hoard inventory. Witness claimed that a group of professional queuers were threatening patrons and attempting to cut in line. These people are typical paid by gray market resellers to stand in line. In this case, it was reported they were earning $500 HKD or $64 to obtain the device. Because of their behavior and complaints from consumers, police arrived at the scene and blocked the footbridge where customers were waiting. Police broke up the line and encouraged everyone to return home.
Obviously with a demand this strong, the line returned. On Thursday, it looks to have been back in full force. Some videos have surfaced on YouTube that show just how crazy long it is. It also shows that now the line appears to be contained by barricades and is under careful scrutiny of police.
With the
incredible sales record set in the U.S.
and several other countries, coupled with the obvious demand in Hong Kong, Apple is confident it is heading towards setting an all-time sales record this quarter.
source:
AppleInsider