iPhone 4 glass put to the test
17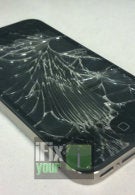 With the unveiling of the
iPhone 4
, Apple released a manufacturing video, which included footage of the screen testing procedures before assembly. The glass flexed like a piece of plastic there, and the point was to put to sleep any durability suspicions. In fact, Apple claims that this same type of aluminosilicate glass is more than 30 times harder than regular plastic, and used in choppers and fast trains' windshields.
The iPhone part replacement service iFixYouri claims to have obtained an original iPhone 4 shell (without the board innards, that is), and exposed it to a DIY durability test. These guys were obviously curious to see what new business the iPhone 4 might bring their way, so they dropped the Apple-made gadget a few times with evil intentions. On the third fall the screen glass gave up the ghost and cracked into pieces. Their point was that although quite resistant to bending, this glass is still vulnerable to sudden impact.
They also make the interesting observation that unlike its predecessors, the new iPhone 4 has the screen a tad above the steel bezel, resulting in less protection for it. We can't vouch wholeheartedly for the credibility of the test however, since the phone wasn't the real deal. That's why we would prefer to stay put for now on the new steel-and-glass iPhone 4 construction durability until someone tests a normal production unit.
source:
iFixyouri
via
TechTicker