iPad charges fully an hour after the battery indicator shows 100%
34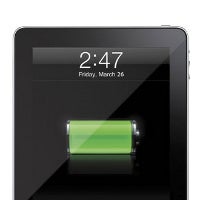 One of the greatest things Apple achieved with the new iPad is
maintaining the same battery life
despite having the drain from 4G LTE networks. The company managed to squeeze a huge battery in the thin third-generation iPad, but with the bigger capacity comes the need to charge the juicer longer.
Interestingly, Dr. Reymond Soneira, creator of DisplayMate, a portal for calibration and evaluation of displays, claims that the new iPad doesn't stop charging when the battery indicator hits 100%. That means that
in order to get full charge
, you'd need to leave your tablet plugged in the charger for around an hour after the battery indicator shows 100%.
"I measured the power actually drawn by the AC Adapter and found that the new iPad continues to charge for up to 1 hour after it claims to reach 100 percent,"
Soneira said for Ars Technica.
"This affects the battery run time if you stop charging when it says 100 percent. Other tablets and smartphones also lie about their charging status, so if getting maximum battery run time is crucial, people need to keep their devices recharging for longer than the screen claims."
Apple claims the third iPad gets
10 hours of use
out of its batteries and most reports agree with that figure. Of course, battery life depends on your usage patterns. Having the brightness lower should be the number one step for you to get the maximum juice and watching videos locally instead of over 3G/4G networks would also help.
Apple also recommends you charge your iPad from zero to 100% at least once a month to keep the battery in good condition. And of course, keeping it plugged in for one more hour after the indicator shows 100% is a good idea.