iPad Mini's design to outshine the new iPad, claims analyst
19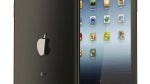 We've already reported tens, if not hundreds of rumors about the iPad mini, and we can safely say that we'll be continuing to do so until Apple finally makes the thing official. Until then, here's a new one!
According to Topeka analyst Brian White, Apple is putting quite a lot of effort into the design of the iPad Mini, potentially outdoing its achievements in the new
iPad
. Now, there's a reason to believe White, as he's been traveling around Taipei, talking to various component makers, trying to squeeze every single bit of information possible. Well, he hasn't been able to collect much info, but there are still some interesting details that make the iPad Mini sound like a very promising device:
Apple did not skimp on the aesthetics of the much anticipated iPad Mini. In fact, we believe the 'iPad Mini' could outshine the new iPad in terms of how the device feels in a consumer's hands. - Tokepa analyst Brian White
According to AllThingsD, White's sources have a decent track record, so this might as well turn out true. There's one other bit, though - it seems like the new, probably even more "magical" iPad will be quite difficult to produce, which may translate into some very limited stock during the first weeks, maybe even months of the device.
source:
AllThingsD