iOS 9 release date and time (it's today!)
19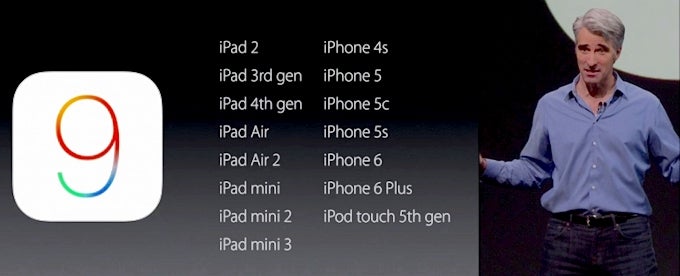 iOS 9 release date: September 16th
With so many new hardware products yesterday, including a new Apple TV, a gigantic
iPad Pro
, and two new iPhones, we wouldn't blame you if you missed an important bit of information during the company's presentation at the Bill Graham Civic Auditorium in San Francisco: the release date for the iOS 9 update is now confirmed!
Mark September 16th everybody, for that's when you should get a notification pushed to your device, letting you know that the new software is ready to download over-the-air (or through iTunes) and install. Some of the most important new features and improvements include Split Screen functionality, transit directions for Apple Maps, thorough improvements to Siri and Spotlight Search, and battery life optimizations. It's an exciting addition to a solid foundation.
For those of you thinking of getting the new
iPhone 6s
or
iPhone 6s Plus
, rest assured: the iOS 9 update will be available with both out of the box, so you won't have to do anything yourself. But what if you've got a much older iDevice? Will it get the update? Apple answered that question a while ago, and you can refer to the list in the image on top to find out.
iOS 9 release time
That's all good, but what about the specific time in the day when iOS 9 will be released for download? As in the past, Apple didn't publicly commit to a precise release time window, though based on past experience we can provide some educated guesses. For example, in previous years Apple begun pushing out new code at about 10 AM Pacific Time, so most of the US was covered by noon. Factoring time zone differences, this would mean that iOS 9 will reach Europe at some point in the evening, while Far East countries like Japan and China will get the prompt in the wee hours of September 17th. Here's a handy table that captures our guess: