iOS 4.1 to be available beginning on September 8th
2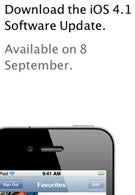 By now, most Apple users should be used to seeing the words "Coming soon" in 18pt Lucida Grande. The company is notorious for keeping its release dates under wraps, and until now, that's held true for iOS 4.1. At Apple's music event this past Wednesday, all we were told was that 4.1 would be available "sometime next week" - but the particularly anxious iPhone owners among you will be happy to learn that Apple's UK site has spilled the proverbial beans. iOS 4.1 will be available for download beginning September 8th.
The latest iteration of Apple's wildly popular mobile OS includes a number of welcome enhancements, perhaps the most hotly anticipated of which is Game Center. The new service enables multiplayer gaming for iPhone and iPod Touch users, and provides devlopers with APIs for auto-matching opponents and tracking achievements. iOS 4.1 also adds iTunes TV and movie rentals, as well as integration with Apple's new music-centric social networking platform, Ping. Other enhancements include the addition of HDR photography and HD video uploads to YouTube and MobileMe over Wi-Fi.
It's worth noting that Apple's US site still doesn't list a release date for iOS 4.1, but we'd be pretty surprised if it didn't coincide with the UK rollout.
source:
Redmond Pie