hiPhone 5 has already hit retail shelves in China
15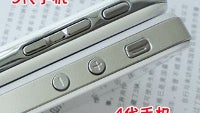 The
iPhone 5
is probably the most anticipated device this year but while a lot of people are looking with anticipation at Cupertino, CA, it's China that seems to have already gotten the...
hiPhone 5
. No typo here, the hiPhone 5 is based on leaked renders of the upcoming iPhone and sells for some $31 (200 yuan) on Chinese e-tailer Taobao. That's the most basic model, though, while more sophisticated hiPhones might cost you more than four times that sum, or over $130 (850 yuan). In addition, except for the standard black and white versions, the hiPhone 5 packs some extra appeal for the ladies (and who knows, maybe some guys) as it is also offered in pink and red.
Shanghai daily Metro Express confirmed that the handset is
thinner than the iPhone 4
, while its edges are less rounded. It also reportedly feels like a toy – very lightweight and plasticky, just what you'd expect from a fake device.
Faux Apple Stores in China are such a commonality that even some of the employees working there were reportedly left with the illusion that they are indeed working for Apple. After one of the fake stores gained wider publicity, Chinese authorities have
closed a number of unauthorized dealers
, but a lot are likely to still operate, some selling genuine Apple devices.
Well, if you're all about the Apple logo on a plastic device, feel free to check out the offer in the source link below – for the rest September, or even October seem like the most likely release dates of the next-gen iPhone.