Discover is Google's new mobile feed where you can find anything and everything
2

Google's search engine is turning 20 years old. To mark the occasion, the tech giant is introducing a plethora of new search and discovery features that are aimed at making it easier for users to explore their favorite topics and easily find relevant content and information. Thus, Google Feed has officially been rebranded as 'Discover' – a name more befitting of the company's ambitions for the custom-tailored informational stream.
The fundamentals remain the same. As in, you'll still see recent searches and activity in card form, but the cards themselves have been given a fresh coat of paint with headers above each topic so you can easily keep track of what you're reading. And if you want to learn more about the topic at hand, you can tap the header to be taken to a list of other relevant articles and videos on the subject. If you're interested, you can also follow the topic of real-time updates on your device.
Of course, if you don't want to see updates on certain topics, you can always tap the control icon at the bottom right corner of each card and choose whether you want to see "More" or "Less" about the subject in question. You'll continue to see content from a range of sources on any given topic, helping you explore new ideas surrounding your interests.
Discover will also surface new types of cards, including videos and evergreen content. Evergreen in this case pertains to articles and videos that might have been around for some time, but are "new to you," as Google puts it.
"For example, when you're planning your next trip, Discover might show an article with the best places to eat or sights to see. Suddenly, a travel article published three months ago is timely for you."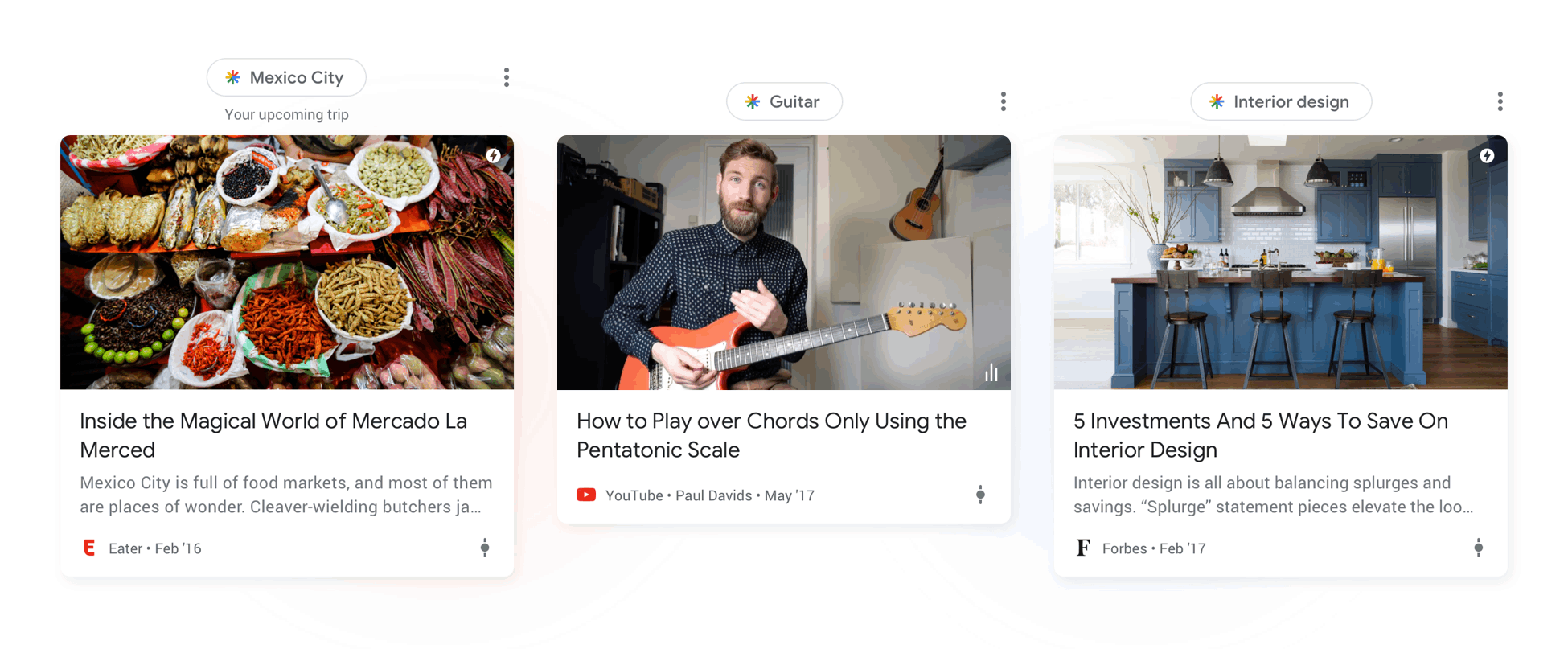 Google wants you to use Discover for more than simple web searches. Instead, the company wants the feed to be a tool that enables you to discover new interests and flesh-out your current skills
What's even more interesting is Google's push for using Discover as a tool to discover new hobbies and develop your current skill set. Using the Topic Layer in the Knowledge Graph, Discover can predict your level of expertise on a topic and help you further develop those interests. If you're learning to play guitar, for example, you might see beginner content about learning chords. If you're already a skilled musician, you may see a video on more advanced techniques.
Also, similar to Google Assistant on Home speakers, the new Discover feed is multilingual. It's currently capable of simultaneously displaying articles from sources in both English and Spanish, though the list of languages (and the regions where it is available) will expand as Google flips the server-side switch in more locations. But what's even cooler is that Google is bringing Discover
out
of the Google app and into
all
mobile browsers. That's right web searches through google.com on any mobile browser will feature the same, involved Discover feed like the main Google app.
Basically, Google wants you to think of Discover as your new mobile homepage, whether you're accessing it from a browser or the main Google app. It's a place where you can not only search, but also discover and explore useful information and find new sources of inspiration from across the web for the topics you care about most. The feature is going live in the US, but if it hasn't reached your region yet, keep your eyes peeled in the coming days and weeks. You know how it is with Google's staged roll-outs.
ALSO READ:
Recommended Stories