Guess what one item people would take out of a home being destroyed
3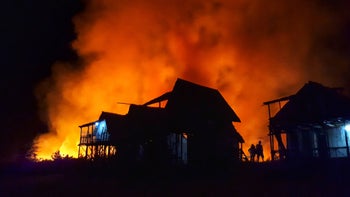 Quick. Your house is on fire, it is about to be destroyed, and you have the opportunity to grab just one thing before running out of the house. What is that one thing you grab? According to a survey conducted by
Secure Data Recovery
(via
PCMag
), 38% of those asked said that they would make sure that their smartphone would be the one item they took safely out of the house.
66% of those surveyed are most concerned about saving their digital assets

28% said that the one thing that they would save would be a computer. Combined, 66% were more concerned with saving their digital assets in the midst of a disaster as opposed to other items such as photographs.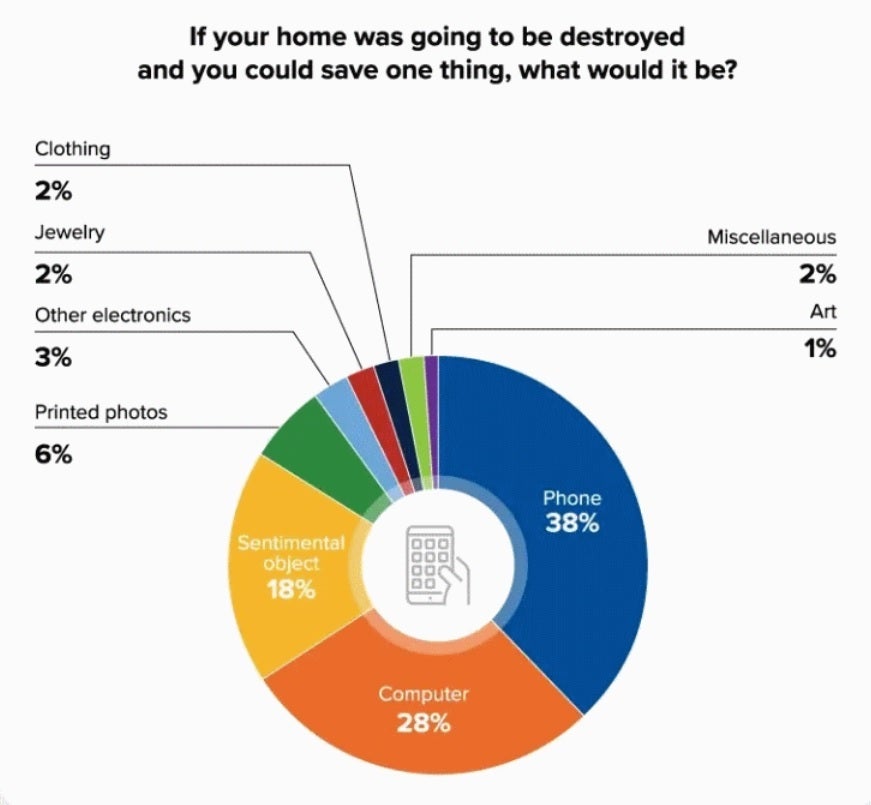 38% of those surveyed would grab their smartphone if allowed to take only one item out of their burning house
1,000 people were surveyed and sentimental objects finished third with 18% of the tally. Only 2% would make jewelry the one thing carried out of the house while only 1% said they would save a piece of art. The response is stunning but yet not surprising considering that for many, their lives are stored on a handset or in the cloud where they can be retrieved by a smartphone or computer.
How important are consumers' digital assets? 44% of those surveyed said that they would give up sex for a year to avoid losing their digital assets. Surprisingly, 47% admitted that they do not back up their data despite saying how painful it would be to lose their digital property.
Ironically, while just 6% of the respondents said that if they could carry one thing out of their burning house it would be printed photos, a whopping 91% of those surveyed said digital photos were among the most precious digital assets they have. That was followed by the 67% who cited digital videos, and the 58% who noted that their digital records (like financial, health, and legal records) were precious to them.
Other precious digital assets considered precious by respondents included things that they have written (44%), creative work (38%), media (36%), professional work (31%), mail (28%), texts (26%), voicemails (21%), school work (21%), and video games (19%).
Most respondents (91%) considered photos to be a digital asset they consider "precious"

Since digital pictures were listed as being precious by 91% of those who took the survey, it would be interesting to see which photos were the most cherished. 62% said it would be hard to lose digital images of their children. 53% said that losing digital photos of loved ones who passed would be painful (and 65% said that they have kept such photos and videos of loved ones who have passed away). Losing digital photos of their pets would be painful to 20% of those asked, while 18% said it would hurt to lose digital wedding photos.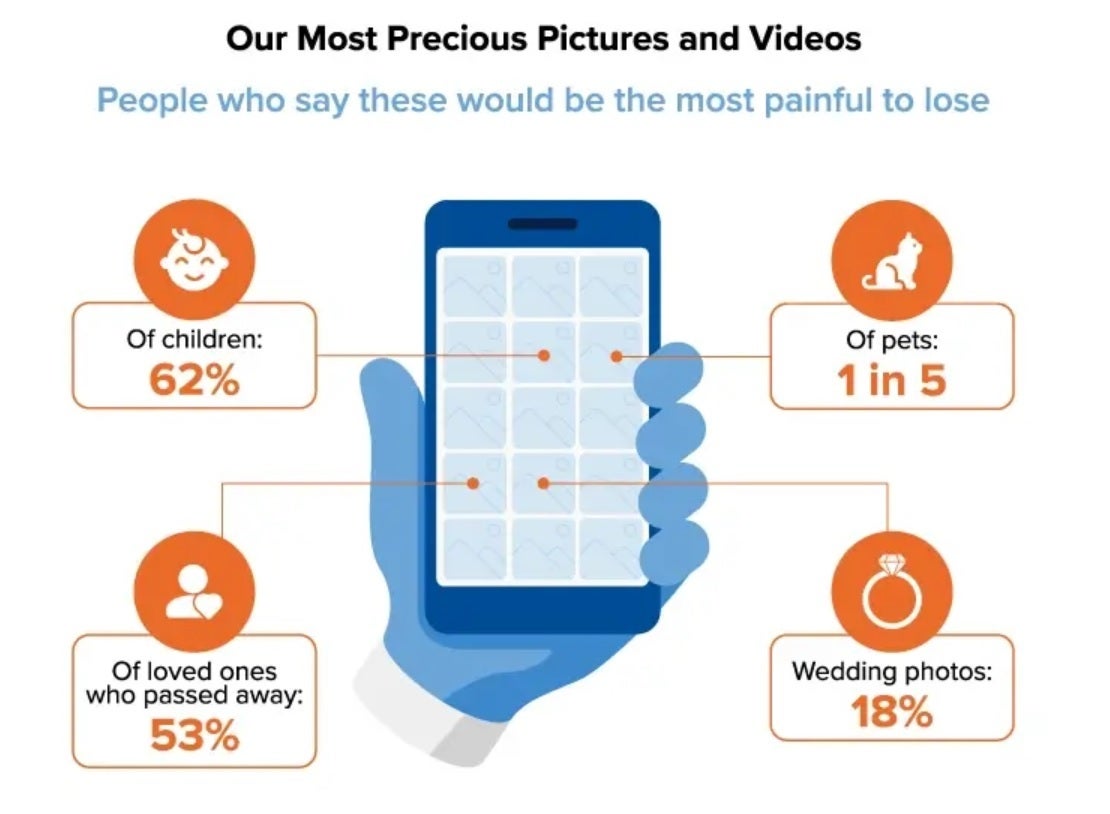 62% of those surveyed considered digital images of their children to be among the most painful pictures to lose
Which apps were selected as the ones that those surveyed would be afraid to lose data from? 77% had Facebook on their list with 45% mentioning second-place Instagram. Spotify (42%) was next followed by Reddit (37%), Twitter (28%), Pinterest (18%), and in a nod to how shallow the content is, TikTok was named by only 15%.
The report notes that the average person worries about losing his/her digital assets multiple times each year. Of digital items saved from past personal relationships, 13% kept NSFW photos. 17% still have texts that they are saving from a past relationship that would be painful to lose. 10% have a similar email they are saving that would make them upset if lost.
Despite this fear of losing digital assets, not enough people are backing up their data. The company that sponsored the survey, Secure Data Recovery, helps clients recover lost data. Either that or they picked a poor name for the outfit. Seriously though, the company sums up the results of its survey by pointing out that there needs to be more of a focus on backing up data. The company says, "Despite the clear importance of digital property, however, nearly half of people admit to putting it at risk by not having it backed up."
The firm adds that the time to think about data recovery is now before your laptop won't turn on. It might be a self-serving comment, but it doesn't make it any less true.