The world's top smartphone market saw deliveries drop to 2013 levels last year
5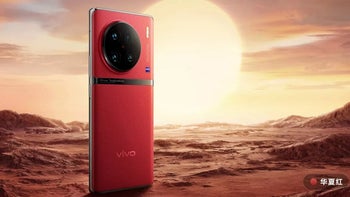 The world's largest smartphone market, China, had a difficult 2022 with shipments declining 13.1% from 329 million handsets in 2021 to 286 million units last year. The data was released by
IDC
on Sunday. The number of smartphones shipped in China last year was the lowest number since 2013 and it was the first time since that year that the total number of deliveries in the country was under 300 million phones.
During the fourth quarter of 2022, 72.92 million smartphones were shipped in China. That was a 12.6% year-over-year decline from the number of phones shipped during the last quarter of 2021. Despite losing production of the iPhone 14 Pro series models in November when Foxconn was forced to shut down the assembly line in Zhengzhou due to the COVID crackdown, Apple shipped more smartphones in China than any other company during the fourth quarter of 2022.
Apple was responsible for a leading 20.6% of Q4 2022 smartphone shipments in China

Apple
was responsible for 20.6% of the smartphones shipped in China during Q4. To show you what a miserable quarter it was for the industry in the country, Apple's share matched its market share during the same quarter last year even though it shipped 12.7% fewer phones. Vivo was next with a 17.5% slice of the Q4 smartphone pie in the country. That was up from the 16.8% share it owned during the same quarter in 2021. For the 2022 fourth quarter, Vivo's shipments were down 9% on an annual basis.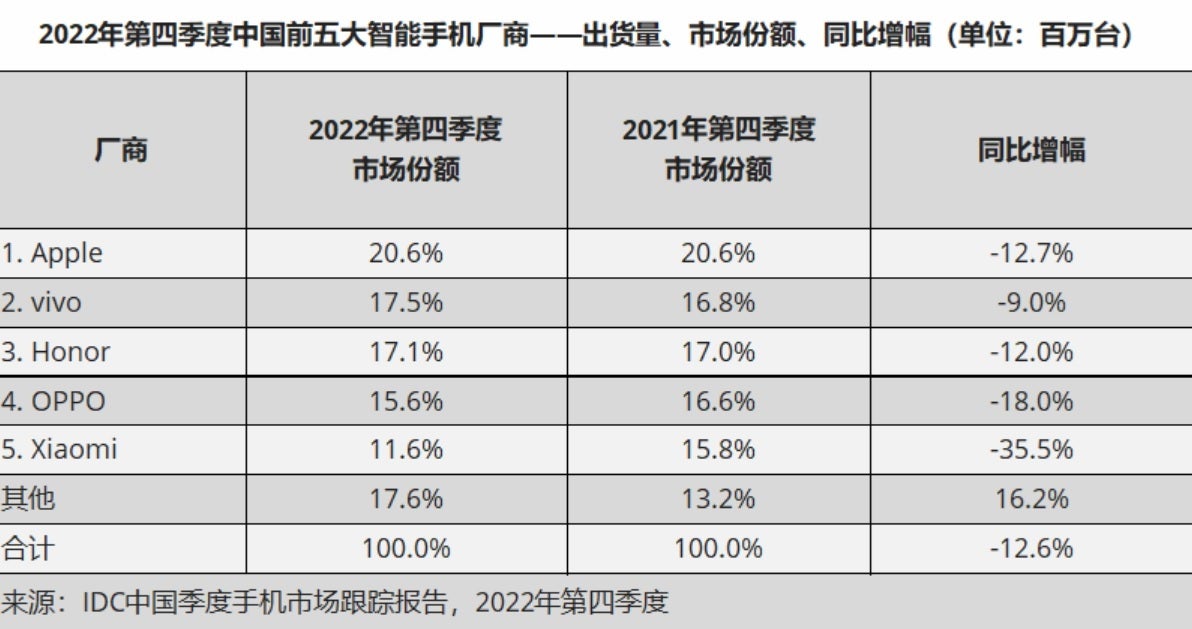 Apple was the leading smartphone manufacturer in China during the fourth quarter of 2022
Honor
saw its fourth-quarter market share rise by a small amount from 17.0% during Q4 2021 to 17.1% during Q4 2022. The former Huawei sub-unit suffered a 12% decline in smartphone deliveries during the fourth quarter of last year. Oppo was the fourth largest smartphone manufacturer in China during the fourth quarter although it suffered an 18% decline in shipments year-over-year. The market share for the three months was 15.6%, down from the 16.6% share it had during Q4 2021.
Xiaomi
had the largest decline in shipments during the fourth-quarter with a drop of 35.5% even though the Redmi Note 12 series did better than expected. Xiaomi saw its fourth quarter market share in China plunge from 15.8% in 2021 to 11.6% in 2022.
So which smartphone manufacturer had the most shipments in China for all of 2022? We won't keep you guessing; it was Vivo with a leading 18.6% share. The brand is owned by secretive Chinese firm BBK Electronics which also owns Oppo, Realme, OnePlus, and iQOO. Vivo was able to capture the top spot even though its shipments declined 25.1% year-over-year.
2022 was a very good year for Honor

Honor had a great 2022 with year-over-year shipments up a whopping 34.4% making it the only brand out of the top five in China to show a gain in smartphone shipments for the year. The company saw its market share in China soar from 11.7% in 2021 to 18.1% last year. Oppo and Apple both tied for third place as the two phone manufacturers ended up with 16.8% of the Chinese smartphone market in 2022. Oppo's shipments declined 28.2% from 2021 to 2022 while Apple delivered only 4.4% fewer iPhone units in China year-over-year.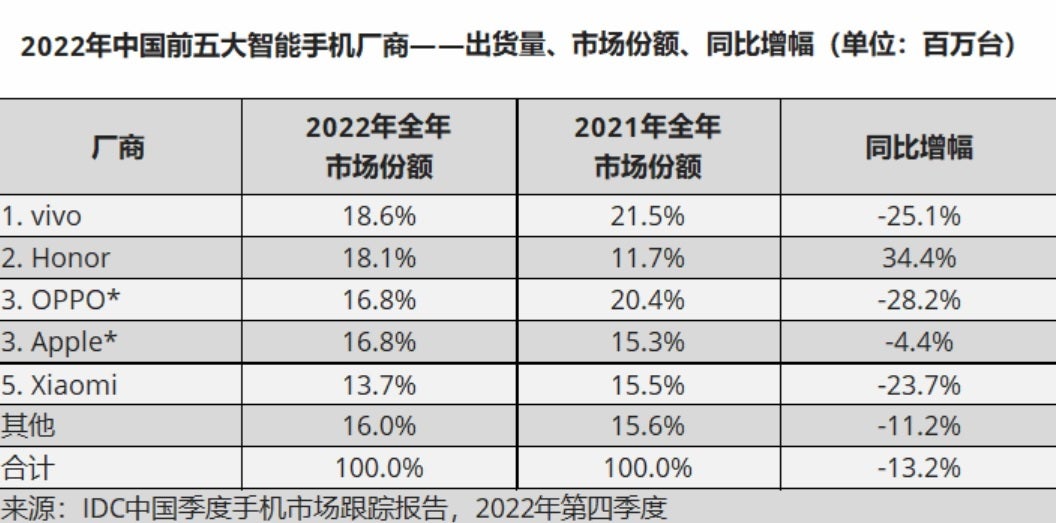 Vivo was the leading smartphone brand in China for 2022
Xiaomi finished fifth in Chinese smartphone shipments for all of 2022. A 23.7% annual decline in shipments left the company with a 13.7% market share in China compared with the year earlier's 15.5%
During the fourth quarter of 2022, shipments of folding-screen products in China hit a record 1.1 million units. For the full year, the number of foldable devices shipped in the country was nearly 3.3 million units. That figure resulted in a year-over-year increase of 118% which was a higher figure than expected. Foldables made up 1.2% of smartphone shipments in China last year up from the .5% share such devices had in 2021.
Interestingly, IDC reports that vertically oriented foldable phones like the Samsung Galaxy Z Fold 4 are more popular among female users than horizontally oriented foldables like the Oppo Find N2. That's because foldables like the Galaxy Z Fold 4 are easier to hold for those with smaller hands.