Apple Maps' Mobility Data reveals the impact of COVID-19 on cities, countries, and regions
3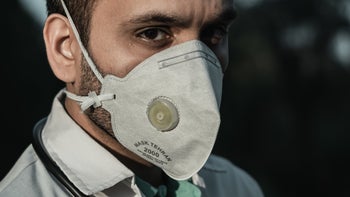 Data collected from smartphone apps is being used to slow the spread of COVID-19 worldwide.
Besides the contact tracing tool developed by Apple and Google
, which will start working in certain areas next month,
Apple has released
what it calls a Mobility Trends tool from Apple Maps. The data it shows reveals any changes in the number of people driving, walking, or taking public transit in 63 countries or regions.
Mobility data from Apple Maps reveals how people in different countries, cities, and regions have been affected by COVID-19

To make sure that users' privacy is respected, the mobile data collected by Apple is not associated with any Apple ID; Apple also points out that it does not keep a history of where a user has been. Generally speaking, data collected from Maps (such as traffic information, search terms and navigation routing) is paired with random identifiers that are always changing. This helps Maps users enjoy a safe turn-by-turn experience helping them go from point "A" to point "B" while keeping their details secret.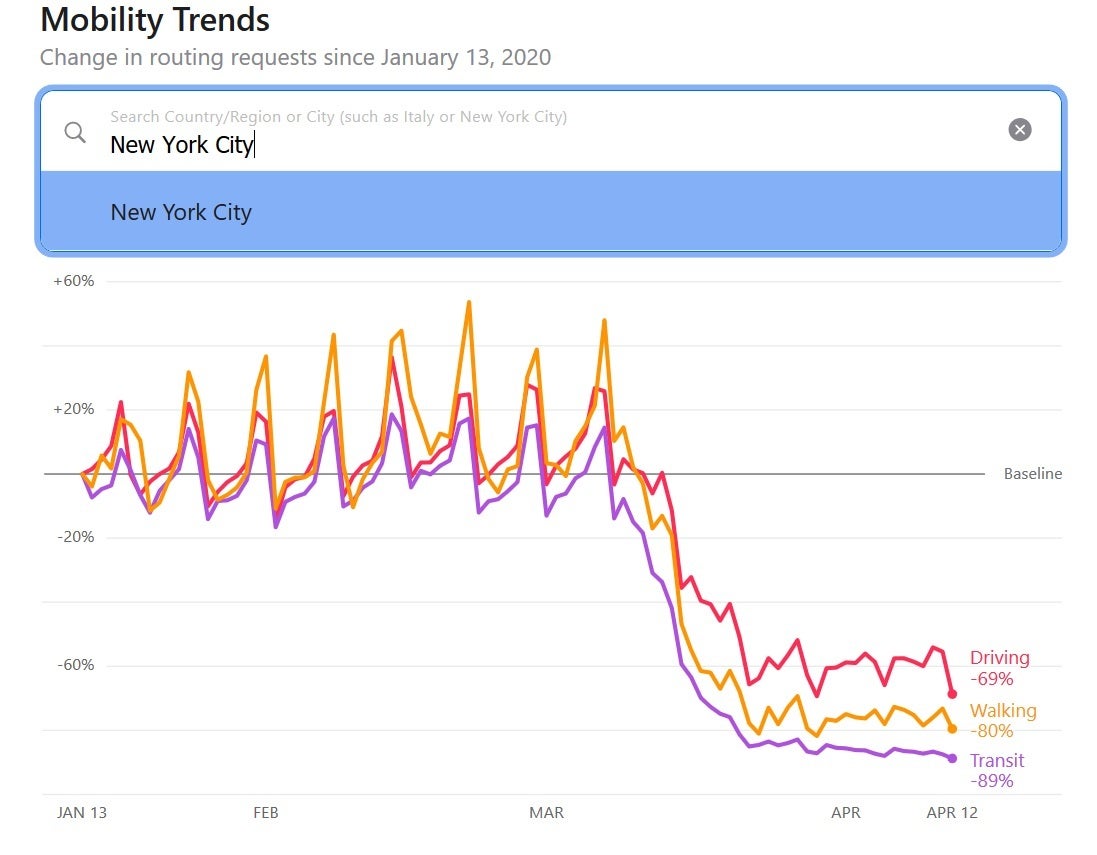 People in New York City are driving less, walking less, and are using mass transit less
Explaining how Apple collects this data from its Maps app, the company wrote, "The information is generated by counting the number of requests made to Apple Maps for directions. The data sets are then compared to reflect a change in volume of people driving, walking or taking public transit around the world. Data availability in a particular city, country, or region is subject to a number of factors, including minimum thresholds for direction requests made per day."
If you head over to Apple's website at https://www.apple.com/covid19/mobility,
you will see the new Apple Maps Mobility Trends report
. Typing in certain countries, regions, or cities ("such as Italy or New York City" suggests Apple) will show you how people in that area have changed how they get around during the COVID-19 crisis. Take New York City for example. Thanks to the COVID-19 outbreak, New Yorkers are driving 69% less than in the city than usual. Foot traffic is down by 80% and the number of people in the city riding on mass transit is down 89%.
In the U.S. as a whole, driving is down 63%, walking is off 66% and the use of mass transit is down 81%. Compare that to a country that took action early enough to limit the spread of COVID-19, like Taiwan. In the latter, driving is off only 15%, walking by 26% and mass transit is being used 52% less often. Yes, what this tells us is that the U.S. should have started social distancing and testing earlier and that perhaps there are other things being done successfully in Taiwan to ward off the spread of the virus.
Apple says that it has donated over 20 million face masks and is teaming up with its suppliers to ship 1 million face shields a week to the areas that need it the

most. And as we told you recently,
Apple and Standford Medicine have teamed up to help first responders
in California find a drive-through testing site if they show signs of contracting the coronavirus. Audio clips offered via Siri can update iOS users with the latest news, and in Apple Maps grocery stores, food delivery and health services are prioritized when searching. Ask Siri, "How do I know if I have coronavirus?" and you'll find information from the CDC that will allow you to conduct a quick and dirty screening based on your current symptoms.
And we should mention once again the contact tracing system that Apple is creating in partnership with Google. The goal is for people to receive warnings when someone they were in the vicinity of someone who tested positive for coronavirus. Armed with this knowledge, those receiving such warnings should make sure that they are tested promptly.