YouTube's mobile app now includes live streaming capabilities
5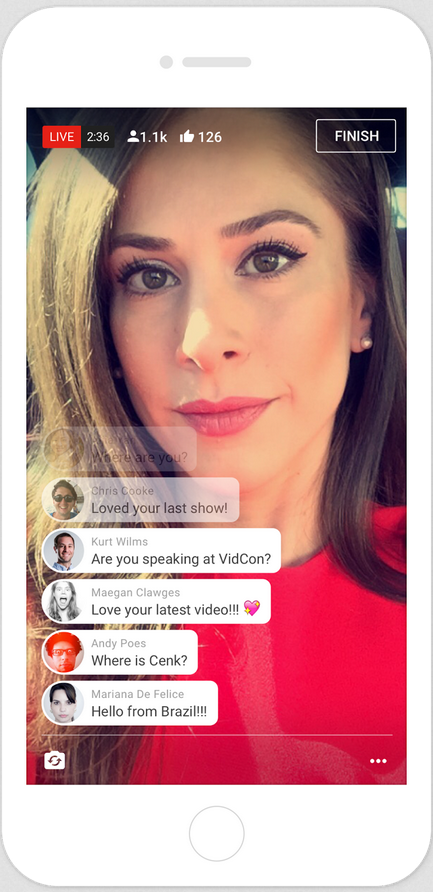 Android and iOS users can live stream from the YouTube app
YouTube reminded everyone today that the Google-owned video streamer was hosting live streaming back in the days when a live stream was some place loaded with fish for the angler. Five-years ago, when Periscope was part of a submarine, YouTube broadcast the Royal Wedding. Today,YouTube announced that its subscribers can now stream live video through the YouTube app.
The whole process is a snap to set up. Once on YouTube, you will see a red capture button in the corner of the screen. Click on it. Take a picture, or select a previously snapped image as a thumbnail, and you will be broadcasting to a content hungry world. After the live feed is over, the streams are stored the same way that your videos are when uploaded to the YouTube site.
As we pointed out the other day, YouTube's live streaming video feature can be used to
broadcast live over messaging app Tumblr
. Since the latter doesn't have the capability to broadcast your feed, it will take the live stream from YouTube, and disseminate to your Tumblr followers' dashboards.
"Today, we are announcing a new chapter in bringing the power of live video to creators everywhere. Soon, we'll be putting the power of YouTube live streaming in the palm of your hands. YouTube mobile live streaming will be baked right into the core YouTube mobile app. You won't need to open anything else, just hit the big red capture button right there in the corner, take or select a photo to use as a thumbnail, and you can broadcast live to your fans and chat in near real time."-YouTube
YouTube is a free download for iOS and Android users, available in the App Store and Google Play Store, respectively. With the app, you soon will be sharing your life with others.
Download YouTube (
iOS
|
Android
)
source:
YouTube
via
AppleInsider