You can now check the Facebook app to see if you need to wear your rubbers
11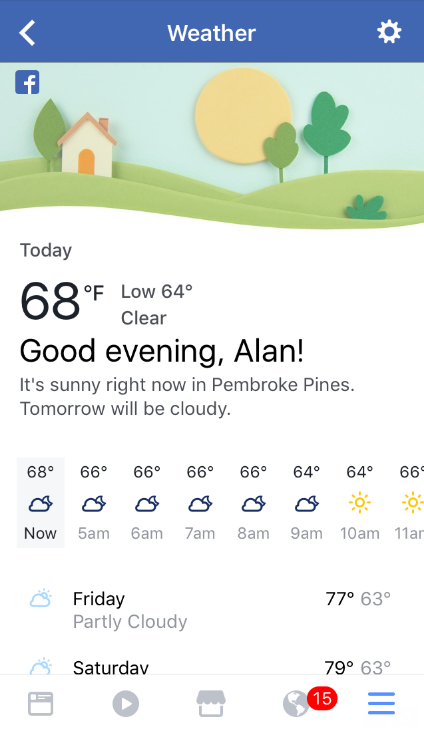 Facebook's mobile app now provides weather information
You spend plenty of time using the Facebook app every day, so why shouldn't you use it to check on the weather? Starting this week, Facebook has added a new weather feature to its mobile app. You'll find it by clicking on the "More" section in the same part of the app where you find "Friends," "Groups," "Events," and "Pages." When you click on the Weather option, you will see an hourly forecast and a five-day forecast. The data comes from Weather.com, and defaults to your current location. You can click the settings icon to monitor the weather in other parts of the world.
In addition to the current readings and the forecast, Facebook's weather page will show an image reflecting the current conditions by where you live. Unless you've some bad luck, you should find the Weather section on your Facebook app since it has rolled out to 95% of the app's global users. Facebook says that it will also allow users to set notifications for receiving weather forecasts. These notifications are currently undergoing testing and should be available by the end of the month.
Offering weather information inside the Facebook mobile app will keep users from leaving it for a dedicated weather app if they want to know whether to carry an umbrella with them. Facebook says that the real goal is to delight its users. Considering that delighted users stay in the app longer, we'd say that no matter how you slice it, Facebook is trying to get stickier with its mobile app.
"We are doing this because our goal is to develop products that connect people to the things they care about most and create moments of joy in people's day, like simply telling you that it's going to rain later"-Facebook spokesman
source:
TechCrunch