X-Rays prove that Apple is dual-sourcing the A9 chip inside the iPhone 6s from TSMC and Samsung
23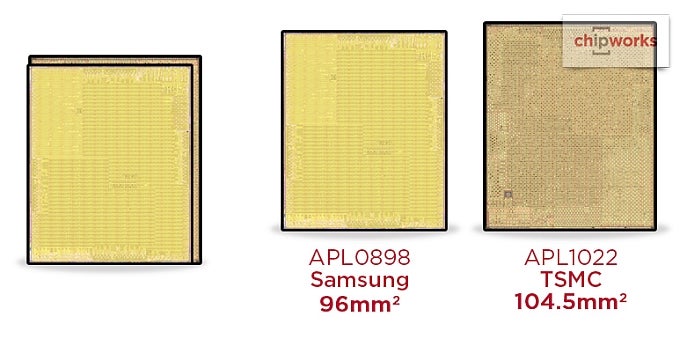 Ever since July, rumors claimed that both
TSMC and Samsung
have received orders to manufacture Apple A9, the chip that powers the
iPhone 6s
series. As it turns out, a recent report from reverse engineering experts from Chipworks has confirmed these rumors.
X-Rays of two Apple A9 chips obtained from distinct models of the exact same phone revealed that Apple has dual-sourced from Samsung and TSMC. While the Samsung-made Apple A9 occupies a die surface of 96mm
2
, the one made by TSMC is slightly larger, at 104.5mm
2
. Note that Apple's custom-designed A9 chip has the exact same structure and components, it's just the manufacturing technology that varies.
While Samsung has the ability to make chips using the 14nm node technology, TSMC is slightly behind the fab upgrade schedule and currently makes its chips using the 16nm node technology. Both use the
FinFET non-planar architecture
.
We wouldn't fret over a 10% increase in die size, but the point is that both performance and battery life are theoretically improved as the semiconductor fabs migrate towards a smaller fabrication node. Interestingly, Chipwork says that the they've noticed differences in the benchmark scores yielded by the Samsung and TSMC-made variants of the Apple A9.
Unfortunately, the experts from Chipworks have yet to publish the results of these benchmarks. We're very interested to see if there's any notable difference between the performance of a 14nm-made chip and the 16nm one, especially since these are the exact same chips, but made on different semiconductor fabrication equipment.
Previous rumors suggested that Samsung will get the majority of Apple A9 and Apple A9X orders, and that TSMC will get a smaller slice of the deal, but it's probably too early for this to be confirmed. Furthermore, we don't know if Apple will also dual-source the faster A9X, the chip that powers the 12.9-inch Apple
iPad Pro
.
We're keeping a close eye on the matter and we'll let you know as soon as the benchmark results are out. In the meantime, drop us a comment and let us know if you're expecting to see a big difference between the Samsung and the TSMC versions of the Apple A9.