Worm crawls out of Bette Midler's iPhone
20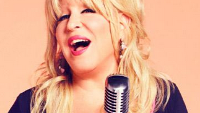 The iPhone belonging to Broadway and film star Bette Midler has had a couple of rough days. According to a tweet she sent out this morning, the Divine Miss M found a worm escaping out of the earphone jack of her handset. This all started with a tweet she sent out on Wednesday saying "
World gone mad. AND I dropped my phone in the toilet AGAIN!! I should own stock in Carolina Rice
."
Midler apparently didn't read our story about TekDry and DryBox. The pair run kiosks inside malls that will
dry your phone in minutes and do it the right way
by applying low heat and vacuuming out the liquid. Instead, the star apparently decided to use rice to draw the water out of her iPhone. According to both firms, using rice is no better than leaving your phone out to dry on a table.
One of the problems with using rice is that it gets stuck in crevices and openings of the phone. As Midler later tweeted, "
Grains of rice stuck in phone. This may end my @twitter career
." She followed that tweet up with one that said, "
Newest on iPhone saga: so I stuck it overnight in this rice I bought and next morning a tiny worm crawled out of the headphone opening!
"
So where did the worm come from? The logical answer would be that it was inside the box of rice used by Midler to dry her handset. But reading that the 69-year old has a habit of depositing her iPhone in the toilet, we might suggest that she read our recent story on waterproof cases for Apple's smartphone.
source:
@BetteMidler
via
BusinessInsider
Recommended Stories