Wingman: the app that will help you score a seat on the mile-high club
7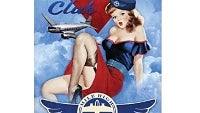 You are seated and ready for what may be a long flight. As the plane continues its passenger loading you notice someone that deserves a second look (and a third). If only you could arrange a coincidental encounter in the aisle that leads to somewhere else.
Why wait until the plane lands? That is what Wingman purports it will be able to arrange. With Wingman, you will get connected with "attractive" people on your flight, "all before you touch down."
It should not take too much to get your imagination going, so we will leave it at this: Wingman wants to hook you up. If your flight has Wi-Fi on board, the app will let you know who else is "available" for a rendezvous at 35,000 feet. No Wi-Fi? The app will be Bluetooth ready as well.
The cast of characters that are developing Wingman, known as Miscellaneous Mischief, are working on an iOS based app along with a browser interface to allow users to share whether they are flying for business or pleasure along with their destination and seat number.
Wingman will be available on a limited beta trial in the next few months. The developers are accepting email addresses for those whose interest is…piqued.
sources:
Miscellaneous Mischief
via
BetaBeat