Windows Phone 7 Series devices to accept apps only from Windows Phone Marketplace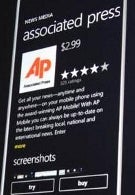 Microsoft's Todd Higgs told Engadget and the rest of his audience at MIX10 that the only way to put applications on a Windows Phone 7 device will be by downloading it from the Windows Phone Marketplace. Developers will have to make sure that they follow all of the Redmond based firm's regulations, which Microsoft will make transparent in order to avoid the murky rules and requirements that the Apple App Store and its contributors face. Some things will be left entirely up to the developer. For example, things like how long a trial lasts will be up to the developer who can decide that a game's trial period ends after 50 kills, or 100 kills, or whatever number the game designer wants to offer. If the cellphone owner decides to buy the game, there is no additional download. Instead, the game simply unlocks.
Developers still have to cough up $99 for Marketplace membership although the 5 app limit per account that is seen in Windows Mobile 6.5 will be tweaked. There could be a new, higher limit, or no limit altogether. Also, there will be no fees for apps to get updated by the developers or for users to download them. Because downloaded apps will be part of your Live account, not part of the phone, you will be able to uninstall an app and re-install it later at no cost.. Ad supported apps will face approval from Microsoft to make sure that the ads are appropriate. And, end users cannot purchase any apps outside of the Marketplace. According to Biggs, Microsoft will be publishing a more comprehensive list of rules and regulations in May.
source:
MIX10
via
EngadgetMobile