Wind Mobile puts up Nexus 5 pre-registration page with full spec sheet
23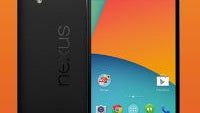 We're all waiting to find out when the Google Nexus 5 is going to even be announced by Google, let alone released so we can actually buy the device. But, that's not stopping carriers from prepping users for the inevitable. Canada's WIND Mobile has posted a pre-registration page for the Nexus 5 so prospective customers can sign up for info on the device's release.
Unfortunately, the page doesn't give any info on the when questions that we all have about the Nexus 5, but it does reiterate the full specs list that we have seen before. As far as the spec sheet, there isn't much that would surprise us at this point. The page mentions the 4.95-inch 1920x1080 display (445 ppi) with Corning Gorilla Glass 3, a 2.3 GHz Snapdragon 800, an 8MP rear camera with optical image stabilization, a 1.5MP front shooter, 2GB of RAM, and 16 or 32GB of storage.
The dimensions are said to be 69.17 x 137.84 x 8.59 mm and 130g, which makes it a bit longer, but slimmer and lighter than the Nexus 4, despite the larger display. The latest rumors are putting the release of the Nexus 5 at this Friday,
November 1st
, but given that we haven't even heard about the announcement event, we'll expect it when we see it.