Win $5.6 million with the Beat The Streak app from Dunkin' Donuts
3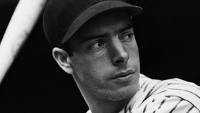 As most baseball fans know, in 1941 Joe DiMaggio had a hit in 56 consecutive games, a record that still stands. Dunkin' Donuts honors this record with its mobile app called Beat The Streak. Dunkin' is offering $5.6 million to the first person who can pick a player who will get a hit in that day's game, for 57 consecutive contests. It is not easy. The closest that some one has been to winning was back in 2007, when someone correctly forecast who would get a hit in 49 straight games.
Once you register for the app, you are given the name of every player on every team playing in that day's games. You can select one player, and if he gets a single, double, triple or homer, your streak is alive. If you're feeling extra lucky, you can select two players each day, but both will need to get a hit for your streak to remain intact. And Dunkin' even will give you a do-over if you lose a streak between 10 and 15 games.
This year, Dunkin' is sending out scratch-off tickets for streaks as low as 5 games, giving everyone a shot at winning something. But if you want to win the $5.6 million, you are going to need to come up with players who get a hit for 57 straight games. You can download the app by visiting the App Store or the Google Play Store. Or, you can click the sourcelink below. Batter's up!
source:
BeatTheStreak