Rumored specs for Samsung Galaxy S10+ include 12GB of RAM and 1TB of native storage
24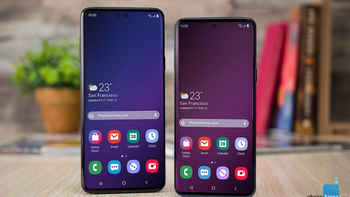 Disappointing sales of the
Samsung Galaxy S9
,
Galaxy S9+
and
Galaxy Note 9
are no doubt casting a pall over company headquarters. However, some rumored specs published by GF Securities (via
My Smart Price
) reveal that Sammy plans on pulling out all of the stops for 2019's
Samsung Galaxy S10+
. For example, the report says the
Galaxy S10
+ could be equipped with 12GB of RAM.
If true, the 12GB of RAM would triple the amount of random access memory employed in the Galaxy S9. It would double the 6GB of RAM found inside the Galaxy S9+ and the base Galaxy Note 9. It would be 50% more than the 8GB used by the 512GB Note 9 model. If this rumor is true, the Galaxy S10 would be the first smartphone to carry that much RAM. This is the memory that stores data from active apps, enabling users to switch between them. Essentially, RAM allows you to multitask without having to re-open an active app each time you want to use it.
In addition, the rumor says that the Galaxy S10+ will come with 1TB of native storage. Currently, the cap on the amount of internal storage on a smartphone is the 512GB offered on models like the
Apple iPhone XS
,
iPhone XS Max
, and the
Samsung Galaxy Note 9
.
The Samsung Galaxy S10+ is said to sport a 6.7-inch display with quad-camera setup in back and a dual-camera setup in front. As for the
Galaxy S10
, two variants are expected to be launched. One will feature a 6.4-inch display, and the other – a 5.8-inch screen. Both will carry two cameras on back.
Earlier today, we told you that an AnTuTu benchmark test of the Galaxy S10+ revealed that
the unit tested had only 6GB of RAM
. It is possible that this was a version of the phone sporting 128GB or 256GB of native storage, and that a model with 1TB on board will indeed feature 12GB of RAM.
And, of course, a mighty high price tag.