White Nexus 4 now available in the U.S.
7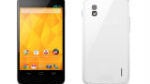 The white version of the Google Nexus 4 has only been official for a few days now, but the rollout is already ahead of schedule. The early talk was that the device wouldn't be available until June 10th (the same day that has been rumored for the release of Android 4.3), but the white Nexus 4 is available now in the U.S.
The white Nexus 4 is available now in the Google Play Store, and it comes with a free bumper for $349.99. The device is also available through T-Mobile, but as usual, if you're going to sign up for T-Mo, it's still cheaper to buy the Nexus from the Play Store, because T-Mobile is charging $427.99 for the device.