White Google Nexus 4 unboxing and hands-on
57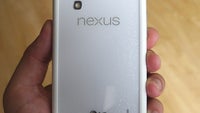 Here it is, guys! After months of rumors and leaks, the white
Google Nexus 4
has finally materialized, and it is now in our office for a quick inspection. What took LG so long to bring this beauty to market is beyond us, but at least the wait has finally come to an end.
We are calling it a beauty because the white Google Nexus 4, as all other white models of popular phones, is truly more eye-catching than its black counterpart. It is like yin and yang coming together when we put the two models next to each other. But at the same time, we're underwhelmed by the fact that only the back plate and the phone's sides have been given a white paint job, while the front side has not been touched at all.
Still, the glittery white Nexus 4 is a looker. LG's trademark Crystal Reflection pattern applied on the phone's glass back bumps the bling factor to over 9000. But while its glass surface feels premium to the touch, some might find its slipperiness rather annoying. In fact, putting the phone on anything that isn't perfectly flat will cause it to gradually slide off, as the case is with the black Nexus 4 smartphone.
A white phone needs a white case, doesn't it? Along with our white Google Nexus 4 we were sent the official white bumper case as well. It provides solid protection for the phone's sides, reducing potential drop damage to a minimum. On top of that, the front and back sides are also protected against scratching while the smartphone is resting on a flat surface. At the same time, all of the phone's buttons and ports are easily accessible. However, keep in mind that even with the bumper case on, the screen and back side of the Google Nexus 4 are still pretty vulnerable, so avoid putting the handset in the same pocket with your keys.
Nothing has changed under the hood of the Google Nexus 4, and it even comes in the same 8- and 16-gigabyte varieties. Nothing new has been added in terms of accessories either. Tucked in the box are the usual wall charger and microUSB cable, both of which are black in color, a quick start guide and a SIM card ejector.
Want one of these? Well, the Google Play store is the place to go. The white Google Nexus 4 is now available for the low off-contract price of $300 and $350 for the 8 and 16 gigabyte versions respectively.