What's this? Apple trademarks the word mark 280
44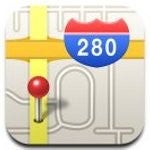 Apple is at it again, this time seeking and being granted the U.S. Trademark for what is classified as the word mark 280 for its use in the icon for the iOS Maps application.
The Maps application icon shows a Route 280 sign which happens to be the highway passing by Apple's headquarters out in Cupertino, California. The icons image was in fact submitted along with the word 280 so at least there is some legitimate reasoning behind it.
This is just a way to ensure that nobody else will use the maps application or the Route 280 sign for their own. Apple began seeking out this trademark back in April of 2010 and this request was granted on June 28, 2011. Tell us what you think in the comments below.
source:
Tech Crunch
via TUAW