What matters to mobile subscribers in the UK? This infographic tells the story
3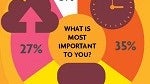 The United Kingdom may not be the world's largest mobile market, but it is a mover and a shaker in the overall landscape, often being the first to launch many flagship devices from various manufacturers.
The competition amongst the wireless carriers is fierce, with four major (and several minor) carriers vying for a piece of a market that consists of roughly 80 million subscribers. That is less than either of top two carriers have in the United States.
Still, when things get that saturated, price and value pair up to entice subscribers to drop one carrier and go to another. Or is it? The folks at MobileUnlocked, a UK based service that unlocks devices so that owners can use their devices on other networks, gathered a bunch of data to gauge the disposition of mobile users in the UK.
Some statistics are not much of a surprise, such as most adults own a mobile phone and that overall satisfaction is up dramatically since 2000. What is interesting is that mobile phones now account for more than half of all voice calls.
There is a feather in the cap for O2 and Vodafone, if all subscribers were free of their contract and able to switch carriers, O2 is a runaway winner with Vodafone taking second. As for what drives a customer to stay with their carrier, money is the big consideration of course, followed by network coverage and common service with friends and family. Those same factors also tie into what make a customer switch providers too.
Since MobileUnlocked is a device unlocking service, of course there is a section for that, showing that most people know what device unlocking is and about half understanding how to do it.
Smartphones now outpace social networking activity by a healthy margin over computers and the majority of subscribers in the UK are tied to a contract and have seen their rates increase with their respective carriers as well.
source:
MobileUnlocked