Wear Face Collection brings the biggest choice of Android Wear watch-faces so far
1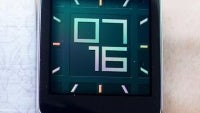 The choice of Android Wear watch-faces just got big with the release of Wear Face Collection. Available in the Google Play Store, this app can put at least 15 custom watch-faces on your Samsung Gear Live, LG G Watch, or Motorola 360 if you are lucky enough to have it. Granted, the watch-face designs might not be up to everybody's tastes, but everyone is different, right?
After the app is installed on your phone, it will automatically install itself on the watch too. Long-press on your watch-face and select "wear face collection". That should get things going, but if it doesn't, there's another option. Open the app on your smartphone, select the desired theme, and tap "push to watch".
We're not sure precisely how many watch-faces you'll receive for free, but the app's maker says that at least half of them are up for grabs without paying.
Talking of custom watch-faces, just in case you missed it, there's this awesome Star Trek tribute watch-face flying around in the app hyperspace. It looks like the availability of custom watch-faces is in safe hands, and there will be even more to come.
Download Wear Face Collection:
Android/Android Wear