Watch as President Obama gives Apple a shout out during the State of the Union
78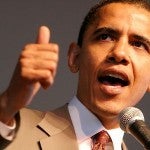 President Barack Obama spoke to both sides of the aisle during Tuesday night's State of the Union address, and the
subject of Apple
came up. The quintessentially American corporation has a number of reasons for the president to single it out to Congress and the world-wide television audience. Whether you love or hate Apple, it still is an American company competing against a pair of Korean giants (Samsung and LG), a trio of Chinese upstarts (ZTE, Huawei and Lenovo), a company in Taiwan (HTC), Japan (Sony) and Finland (Nokia). Now when you're talking about platforms, it is a different story as Apple's iOS goes toe to toe with Google's Android. But we digress.
move some of its Mac production to the United States from overseas
. And by the way, guess who is in the audience watching President Obama? Why it's none other than Apple CEO Tim Cook who
managed to wrangle up a cheap seat from Bob Uecker
was
invited by the First Lady
to see the State of the Union live. Maybe she was angling for a free Apple iPad.
The president has changed a lot since his first State of the Union when he had fewer grey hairs and
was a BlackBerry man
. Now, we're unsure which platform the president favors although he has been seen with an Apple iPad. Speaking of Apple, check out the 13 second video below which shows the president's comment about the iPhone manufacturer.
source:
TUAW