Want a cheap brand-name Android? Sony Xperia tipo and tipo dual now sold in the US from $180 SIM-free
4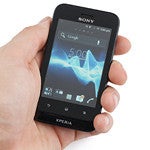 We've reviewed the S
ony Xperia tipo
, and found it to be a pretty decent entry-level Android handset with ICS and good call quality, only lacking a bit in the camera department. Now the Xperia tipo and the
tipo dual
, which allows you two carrier connections at once, have been listed by Sony for sale in the US.
The price is pretty good, too, with the Xperia tipo going for $179.99, and that is without any carrier contract and subsidies. Pop a prepaid card in this thing and you are free from carrier shackles.
Or pop two cards, one for data, one for calls, as the
Xperia tipo dual
is only 10 bucks more, at $189.99. You can have a look at the offerings directly on Sony's website in the link below.