Walabot is a cool gizmo that lets you see through walls with your smartphone
3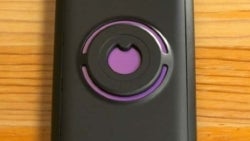 Ever thought about using your smartphone to see through walls? It's possible now, thanks to a gizmo called Walabot. Designed by a company in Israel, Walabot is a 3D imaging sensor that mounts to your phone's back panel via a magnetic attachment.
It detects pipes (metal and plastic), electrical wires, studs, and (presumably) the mummified remains of whatever poor soul was buried inside your living room's East wall some thousand years ago. It's both a cool "look at what my smartphone does!" showcase and a tool with practical purpose for any electrician.
Walabot is able to trace objects through cement, drywall, and also detect movements behind walls. As the technology becomes easier to integrate seamlessly with phones, clever developers could find ways to base fun games and useful apps around it.
Wouldn't it be cool to be able to chase your friends behind walls in multiplayer? Sounds like gaming from the future! Likewise, CEO Raviv Melamed envisions apps to help the blind avoid obstacles, help robots become autonomous, or alert you if something bad happens behind the wall.
Walabot is sold online for $99. More information is available in the links below.
source:
WalaBot
via
GadgetsNow