WSJ: Samsung winning back customers in emerging markets, but at a cost
55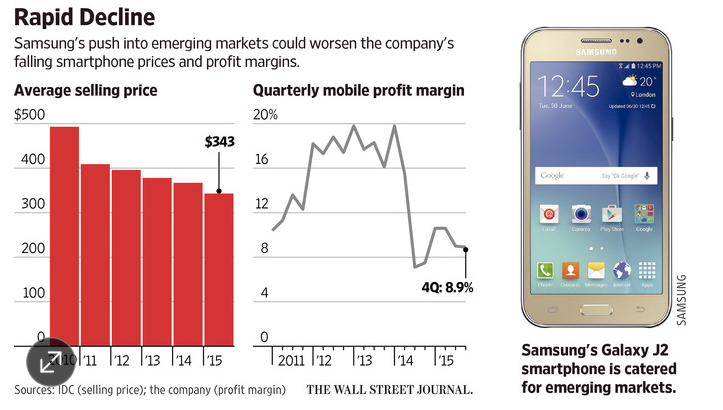 As Samsung cuts prices in emerging markets, sales rise but margins drop
Samsung is looking to recapture the throne it once sat on as the top smartphone manufacturer in emerging markets. In countries like China, India and Indonesia, Sammy lost its leading position in 2014 and 2015. But a simple strategy is helping the company regain lost ground. By cutting the price of its handsets, Samsung is attracting business in emerging markets like it used to. For example, the low-priced Galaxy J series gives buyers some of the features found in the manufacturer's high-end models, but is priced much lower starting at $130. However, this strategy does come at a cost.
The company's profit margins are bound to take a hit from dropping its prices. As a result, Wall Street analysts say that cutting prices to be more competitive in emerging markets is not a long term answer for the company. Samsung's fourth quarter 2015 operating profits for its smartphone business plunged 60% compared to the same quarter two years ago.
Samsung's gross profit margin last year was 8.9%, a far cry from the 40% gross operating profit margin achieved by Apple. It also is a big drop from the 16.1% margin Samsung earned in 2013. Samsung executives say that they can raise that figure by cutting down on production costs, and by cutting the number of different models it makes. But the company admits that cutting the price of material doesn't happen overnight.
The one area it can control quicker is pricing. Samsung's phones now cost 25% more than locally produced budget phones in India, down from 40% previously. While lower prices might help Samsung become the top smartphone manufacturer in emerging markets, it will need to work on its margins or else cutting prices will be like digging its own grave.
source:
WSJ