WSJ: Apple to charge $10 a month for its new streaming music service
35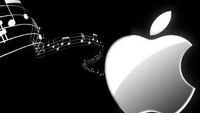 Apple is looking to grab some of Spotify's leading 86% share of the U.S. and global streaming music market once it introduces its own streaming service later this month. The introduction is expected to take place at this year's WWDC developer conference starting June 8th. The tech titan is responsible for 80% to 85% of world-wide music downloads, but the transfer of music this way has been in a steady decline. Streaming music is the only form of music transfer that has been growing. Last year, music download sales declined 8% across the industry, to $3.6 billion. At the same time, music subscription revenue rose 45% to $1.6 billion.
Over the last few months as rumors about Apple's streaming service has grown, there was
talk that Apple would seek to undercut Spotify
and charge $8 per month for paid service as opposed to the $10 per month that Spotify receives. But those familiar with Apple's plans say that the company will also be asking for $10 a month. And while Spotify still has a tier of free service supported by ads, these same people say that Apple will offer just a limited number of songs that will be free to listen to.
Once again citing those who claim to know Apple's intentions, the company is willing to grab streaming business at the expense of losing revenue from those downloading tunes. For example, an iTunes subscriber paying $10 to download an album will receive a prompt from Apple telling him that he is better off using the $10 to subscribe to one month of streaming music instead. As discussed recently,
Apple might offer as much as three free months of music
in order to get potential subscribers interested in the streaming subscription service. It plans on using an aggressive advertising strategy, and will update its music app in order for it to work with the new service. Apple will also offer the service and the app to Android users.
While Apple might introduce the streaming service in a matter of days, the company has not yet signed deals with the three largest music publishers, Warner Brothers, Universal and Sony. If these deals are not done in time, Apple could be forced to delay its announcement. The company also had 303,000 subscribers in the U.S. for its Beats Music streaming service as of the end of December. These subscribers will not be automatically moved over to the new service until it is running without problems.
The tech titan has also started hiring BBC DJs to host more traditional sounding radio channels that will be offered along with the streaming music. And users will also have the opportunity to program their own "stations" like Pandora users do. For Apple, this is all a sign that it has made the move from a declining mode of music consumption to one that is showing growth.
source:
WSJ