Vocre for iOS provides near-instant language translation, helps you find a foreign girlfriend
7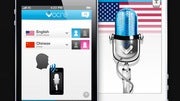 If you happen to be a follower of the Star Trek franchise, you are probably familiar with Hoshi Sato and that Universal translator of hers. The fictional gizmo is capable of recognizing the user's speech and translating it instantly into any human or alien language.
Well, that technology is slowly but surely leaving the scope of science fiction and practical solutions are already on market. Of course,
"Conversation mode"
has been available in Google Translate for months, yet the guys at
myLanguage
have decided to come up with an alternative.
It is called Vocre
and is currently available for any iDevice running iOS 3.0 or higher.
By using the Nuance speech recognition engine, the app converts the user's speech into text, which gets submitted online for translation. Almost instantly, your words are spoken back in the foreign language of choice, and a special voice-adapting engine makes sure that the translated phrases do not sound unnatural.
Currently, Vocre can work with only a handful of languages and language variations, namely English, French, German, Italian, Japanese, Mandarin, and Spanish. However, more languages are to be added soon, as well as the ability to use the app during a phone call.
You should bear in mind that
Vocre requires an active internet connection in order to work
, so keep an eye on your data roaming charges should you need to use it abroad. If you feel like checking it out, we have provided a download link below. The first 10 translations are free of charge, after which a pack of 10 more translations will cost you $1.