Virgin Mobile's advertising spot parodies T-Mobile Carly commercials
18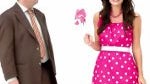 Sometimes you have to just laugh at all of the gun slinging commercials being put out by wireless carriers, but then again, we don't see it ending anytime soon.
In fact, this time it's not your usual major carrier versus major carrier situation, but rather, we find prepaid wireless carrier
Virgin Mobile
taking aim at
T-Mobile
. Honestly, you just have to watch the advertising spot below to see how they blatantly parody T-Mobile's very own spokesperson; T-Mobile Carly. From all the spots we've seen thus far, she's been the sweet and adorable one to highlight some of the T-Mobile's benefits, but in this one, Virgin Mobile makes her look and sound completely different of course.
Not only do we find a parody of T-Mobile Carly, but the Virgin Mobile commercial goes to spoof Spencer and Heidi from "The Hills" as well – they're actually referred to as Sparah. All in all, Virgin Mobile is highlighting some of their competitive advantages over T-Mobile – like their monthly pricing and best valued Android smartphones out there. Watch and see what we mean!
source:
Sprint