Virgin Mobile's Broadband2Go "unlimited" data plan will see throttled speeds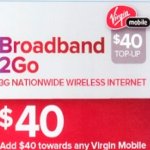 Alas, we're slowly but surely witnessing a common trend amongst wireless provides as our vociferous appetite for data consumption continues to grow – thus clogging networks and forcing carriers to implement strict new rules. In the prepaid market, Virgin Mobile has been a prominent figure since they've continued to offer
"unlimited" data usage on their Broadband2Go plans
; much like parent company Sprint offers.
However, the walls are crumbling for those customer who are used to the all-you-can eat service they've been offering since the carrier will be enforcing a new
5GB cap
. Granted that customers will still be able to transfer as much data as their hearts desire, their speed will be
throttled down
once they pass the mark of 5GB – meaning, slower speeds will be enforced at that point.
Virgin Mobile's Corinne Nosal said, "Customers who use BB2Go for typical email, internet surfing and reasonable downloading will likely not be impacted/notice any difference." Still, it'll deeply affect those who are more accustomed to giving the network its share of workouts in the form of watching lengthy videos on YouTube or playing a streaming movie from Netflix.
Well, customers better enjoy the last days of untouched data speeds since the new changes are going to
start on February 15th
.
source:
PCMag