Virgin Atlantic now allows in-flight mobile phone calls from New York to London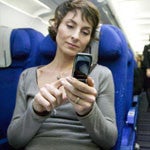 Virgin Atlantic will now offer mobile voice, text, and data usage capability on their flights between New York and London. Virgin Atlantic is the second British airline to offer text and data usage while in flight, but the first to launch the ability to make voice calls with the passenger's own mobile phone while in the air.
The technology, deployed by AeroMobile, will not come with some caveats. Since the initial flights offered will be between London and New York, Virgin Atlantic and AeroMobile must comply with the United States' rules and regulations surrounding such technology. FAA regulations prohibit the use of mobile phones in-flight while inside US air space. The FAA has vowed to take another look at the policy, but the problem is the laws regarding the testing of phones would require them to test and certify each and every cell phone model, which wouldn't be cost effective in today's quickly changing phone industry. Virgin Atlantic plans to get around the US regulations by only allowing the service to be used at cruise altitude, and only when the aircraft is 250 miles or more from the shore of the US.
Several other airlines have deployed AeroMobile's in-flight mobile phone service, most notably UAE flagship airline Emirates, as the launch customer. Emirates flies hundreds of flights per day with passengers using the in-flight calling service. Other airlines such as Malaysia Airlines, Singapore Airlines, and Qantas have already deployed the technology on many flights. The service has over 5 million users worldwide, and many airlines are now in talks to add it to the list of their in-flight offerings.
The pricing for using the service is very similar to the cost of roaming on a cruise ship or in another country. When available, the passenger simply allows their phone to roam onto the network of the on board repeater, and most carriers will bill the call to the user's monthly mobile phone bill.
Many countries seem to be all over the quick adoption of the new technology. However, it's not without its critics. In the US, for example, some say that air travel has already become stressful, and sitting next to someone talking on the phone would further diminish what is already an unpleasant travel experience.
Would you like to see more in-flight calling on flights within the US? Would you use the service?
source:
Electronista