Video: Imagine an elastic touch screen that really lets you dig in
6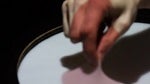 This certainly delves into the world of science fiction, except it will not be fiction much longer, not when creative minds at the Massachusetts Institute of Technology are involved.
Dhairya Dand and Rob Hemsley have developed an interactive display which, when paired with depth cameras, can interpret inputs along a third axis of motion, pushing and pulling on the display. The result is a well deserved, "Wow!"
Called "Obake," which loosely means "shape shifter" from Japanese, but more accurately means "ghost," the display accepts additional inputs through pinching and pulling, as well as pressing deep into the interface. The depth cameras can sense varying degrees of input. On top of that, mixed –multi-input will work as well, pinch-pull and press, and combinations between.
The display retains inputs by using linear actuators which keep the screen "pinched" if you pulled out a mountain in the landscape for example. Dand points out that this approach redefines the nature of input away from other methods which rely on illusions of 3D, and GUI inputs that are rooted in two-dimensional thinking.
Dand and Hemsley envision this technology finding its way to smarphones. With this kind of elasticity, you can kiss cracked displays good-bye.
source:
ExtremeTech