Vertu Aster is yet another luxury Android smartphone with nice features
14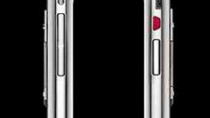 Several months after
introducing
the
Signature Touch
, Vertu is now getting ready to launch another luxury smartphone, this time called Vertu Aster. Earlier this week, the Aster was approved by the FCC, as well as by China's Telecommunication Equipment Certification Center - and that's how we know about its existence.
Although the Aster looks slightly different than the Signature Touch, its features appear to be identical. The new handset sports a 4.7-inch display with 1080 x 1920 pixels, and offers: LTE connectivity, NFC, 2 MP front-facing camera, 13 MP rear camera, quad-core 2.3 GHz Snapdragon processor, 2 GB of RAM, and 64 GB of internal memory. Just like the Signature Touch, the Vertu Aster seems to be made out of rare materials (including titanium alloy and leather), and is pretty heavy, weighing 195 grams. The new smartphone runs Android 4.4 KitKat with Vertu's own UI customization.
For the moment, we don't know when, and neither for how much the Vertu Aster will be available (it's not yet listed on Vertu's official website). In any case, since the Signature Touch costs more than $10,000, it's probably safe to assume that the Aster won't be cheaper than that. So... any takers?