Version 1.1.0.17 of Twitter for BlackBerry Beta brings along mainly bug fixes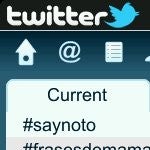 Needless to say that there are some advantages with being a member of the BlackBerry Beta Zone, especially when you're able to be the first to get in with some new updates to certain apps – mainly the official Twitter client.
Recently, an update has been made available which brings the
beta version of Twitter for BlackBerry to version 1.1.0.17
– which is a minuscule jump from the
previous v.1.1.0.16
. Regardless of that, the latest update is mainly comprised of several
bug fixes
that address some concerns that various beta testers have been experiencing with the last update.
So if you've been religiously using the beta app, it's probably a good idea to make sure you fetch that new update by simply pointing your browser to www.blackberry.com/beta. Once you've got that squared away, just cross your finger and hope that all of the kinks are ironed out with this one.
via
BerryReview