Verizon's Friends and Family for Business to help you control wireless spendings
2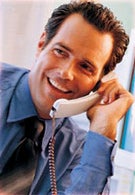 Verizon has announced a new feature, which should help people manage their expenses for communication.
Friends and Family for Business
allows companies to create a calling group of up to 10 numbers that are mostly dialed. Placing or receiving calls from these contacts will be considered mobile to mobile calls and will not count against the business plan's minutes. You will be also able to add landline and wireless numbers of clients, colleagues and vendors that are not on Verizon. What's really nice here is that customers will be able to change the numbers that are included in the calling group as frequently as needed. This should be really useful for businesses that require almost constant communication with different people. For example, if you have started work with a new temporary colleague, you can easily add their number in the Friends and Family group, and then remove it later on.
Friends and Family for Business will be automatically available on My Business or Verizon Enterprise Center for those that wish to become Verizon business customers or the ones that switch to a qualified plan, starting March 15. For more information check Big Red's press-release in the source link below.
source:
VerizonWireless