Verizon to offer low-end Motorola Android device with the WX445?
This article contains unofficial information.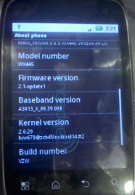 The price of the Motorola DROID X might keep more than a few cellphone buyers looking for a cheaper alternative. If they are browsing around a Verizon store, they might not have too far to look. The pictures below are said to be from the Motorola WX445, a low end Android powered model that is expected to be heading to Big Red. Obviously not the DROID X, the WX445 is powered by Android
2.1
, a screen that is sized between 2.5 and 3 inches, a flashless camera of unknown MP size, and apparently runs MOTOBLUR or the newer lite version of it seen on the DROID X. With a 1170mAh battery, this handset doesn't appear to require too much power which translates into fewer fun and exciting features. One person who was able to play around with the phone says it is not impressive and looks like a cheaper Palm Pre without the keyboard. Sorry, hope you didn't just eat.
source:
Engadget