Verizon teaming up with car makers to speed up the adoption of LTE-connected vehicles
2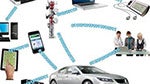 Verizon isn't satisfied having the biggest LTE network in the US, they want to expand it to automobiles. To that end Verizon has announced the formation of the 4G Venture Forum for Connected Cars, which joins Big Red up with several prominent automakers to speed up the adoption of connected cars. BMW, Honda, Hyundai Motor Company, Kia Motors and Toyota Motor Sales are listed as the initial members of the group, so presumably we'll see connected cars trickle out from these companies first.
The goals will basically include the grafting of smartphone or tablet-like computers into the vehicles as consoles, GPS devices, and in-car entertainment. VZW's Chief Marketing officer Tami Erwin say "There are many challenges to designing next generation telematics and infotainment solutions, including supporting safe and responsible driving, advancing vehicle-to-vehicle solutions and improving sustainability, among others."
Vehicle-to-vehicle solutions could refer to helpful safety features, or else they could refer to video chat and gaming with other travelers on the freeway. Hopefully their commitment to safety means you won't be able to play Words with Friends or Fruit Ninja on the console if the driver is the only person in the car. Otherwise we may need Google's self-driving cars sooner rather than later.
soource:
PR Newswire
via
The Verge
Recommended Stories