Verizon launches tasty colors of the Chocolate
This article contains unofficial information.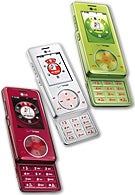 Not only the European version of the Chocolate, but also the popular Verizon phone by LG, will be available in three new variants for different people with various tastes. As it was with the GSM Chocolate, it came in "chocolate" black at the beginning and then in the contrasting white and lady-oriented pink color. The third color version will be in lime-electric-green, probably oriented to the teenagers' market. All the colorful versions are absolutely identical to the original LG VX8500 Chocolate in features and design, except for the colors of the housing and backlight.
Source: EngadgetMobile