Updated Google Goggles now searches every picture you take when you opt-in
5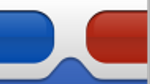 According to Google, the new version of Google Goggles available in the Android Market makes your smartphone's camera "smarter". Using a new opt-in feature, Google Goggles can now
search through all of your photo
s, not just the ones that you take with the app. If anything appears on the picture that is "recognized" by the application, you are told via a notification.
Using the camera on your Android phone as your main "shooter" during a vacation, you can find out
many interesting facts about places you visit, or the sites that you see
, all of which can be shared with your friends using your Goggles search history. To opt-in and allow Google Goggles to search all of your pictures, first you need to open the app. Once that is done you tap on Menu, hit Settings and click on Search From Camera.
For those who never downloaded the app, you can do so now for free from the Android Market.
source:
Google
Recommended Stories