Update to Pebble adds new features, improves others
9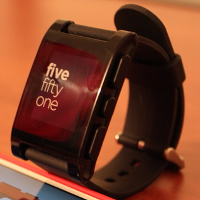 The Pebble smartwatch has gone from Kickstarter hopeful to becoming a legitimate tech product for sale at Best Buy. While not everyone walking on the street knows what the Pebble is, let's just say that it is a lot more than just a few months ago. And you can be sure that Santa will be delivering quite a few units this holiday season. After all, they really do make a great holiday gift.
The watch has received a firmware update, to version 1.14. One of the new features is a Do Not Disturb setting that blocks notifications from reaching the watch screen. The Alarm app has received an update allowing you to create multiple alarms, toggle them on and off, and edit existing alarms. You can also hit the snooze button to get an extra few minutes of rest. Go ahead! You earned it.
Notifications settings now have a dedicated menu, and you can decide which notifications are to be displayed. Speaking about notifications, those coming from an iOS device will now reach the Pebble smartwatch faster. And coming off of airplane mode, the watch will now look for an iOS signal immediately instead of waiting for a minute.
What is an update without bug fixes? This one brings a few to the watch including a fix for the never ending vibration that some experienced after dismissing or ending a call. A few deal with Bluetooth connectivity and missing Caller ID information. To get the update, open the Pebble iOS or Android app.
There are a couple of other notes.One is that beta version 3 of the Pebble SDK 2.0 is now available for developers and includes bug fixes, stability improvements and more. Finally, the Jet Black and Cherry Red Pebbles are now available (in time for the holiday) from the Pebble web site (Getpebble.com).
source:
Pebble
via
AndroidCentral