University offers free iPhone 3G to incoming freshmen
25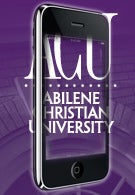 Those that are Apple fans would be envious, as incoming Freshmen to Abilene Christian University this year have just been treated to the choice of an iPhone 3G or an iPod Touch upon entrance to the university. The program is a first for the university, and the devices are said to come with preloaded applications to provide help in "academics and studying."
Students expressed happiness about the ability to use the device in class for research purposes: "I use it in four of my five classes," says Halie Davis, a teenager from Rankin, in west Texas, who chose the iPhone out of the two devices. "If your teacher says 'get out your iPhone and look up a word' you can do a Google search or check Wikipedia on the Internet. It's really fast."
The university offers the students read-only access to Xythos, the university's online document management system launched earlier this year, via their devices. Through the system, instructors can add essential class documents, such as the course syllabus, PDF files, and assignments. The applications are web-based, chosen by the university in part for future expansion outside of the bounds of the iPhone.
Another popular application, known as 'mymobile,' allows users to find crucial class information. "You click on the tab and it tells you the classes you're enrolled in, where they are, the professor's name, and [gives you] a 3-D map of the campus. That was really, really helpful to find your way around."
A question that many initially had was why the university didn't choose to equip the students with laptops versus the mobile devices. University CIO Kevin Roberts stated that laptops were considered a few years ago, however it was revealed that, among the devices having poor battery life, incoming students were bringing their own computers. They also faced another hurdle; in conjunction with adding the Wi-Fi enabled devices, they realized that they would need to increase the capacity of the network, as it wasn't prepared to handle a "constantly connected population." Access points on ACU's campus have jumped to 500 total, up from 176 initially. Additionally, 130 are slated for release by summer of 2009.
The cost of the iPhone monthly plan (if the iPhone was chosen out of the two devices) is something else to consider, but regardless, a nice entry treat into the university!
Source:
Slashdot
and
NetworkWorld
via
BGR